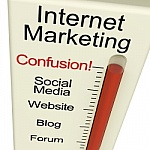 If you are considering getting started with Internet marketing there are a few things that you should do in order to be more effective. All things considered you have to set goals for what you want to accomplish from marketing on the internet.
Are you doing it for lead generation, sales or building your brand. Or your strategies could be from a comprehensive stand point meaning your goal is to accomplish all three of these (lead generation, sales and brand building) simultaneously.
This is usually the approach of most internet marketing campaigns, to build an internet prescience that's broad in its reach and ability to convert, sales as well as leads. Your goal should also be to communicate your message socially as well.
Let's look at 10 internet marketing tips that will make your online goals more effective.
Tip #1
Create a website that consist of a blog. Setting up a blog about your business niche is the first step to building a successful internet marketing web to help you in sales and lead generation, as well as brand building. Setting up a blog about the niche you are in will help you to interact with those whom are in your target audience. This is way to get them to know who you are and what you stand for with regard to your business. Your blog post should consist of some of the questions your audience need answered before doing business with you.
Also you write about how your services have been of benefit to others including testimonials. This third party validation could go a long way in helping you close more sales. Not only should your writing consist of information for potential customers but for your current customers as well. Keeping a balanced mix of prospecting as well as informative post will help you keep your current customers.
The main structural element of your blog (website) should be a form to collect prospect information.
Tip #2
Create a newsletter about your service, product or business. As stated above a crucial element of the structural design of your blog  should be to include a form to collect prospect information. The most important piece of information to collect is there email address.  This will allow you to be able to build a list of subscribers that you can communicate with on a daily, weekly or monthly basis that is all up to you. After collecting this information you now have people in your database to send you newsletter to.
Your newsletter could contain information about your business. Things you are currently working on but to be most successful they most perceive what you are sending them in you newsletter to be something of value. How to information generally works well.
Tip #3
Create a business page on Facebook. With the fire storm surrounding Facebook there is no reason why you should not try to leverage its 800 million subscribers. Developing a profile for your business is a good social media marketing strategy to include in your overall internet marketing agenda. This will allow you to build upon the relationships you have with your customers and prospects in a social manner. It will also  allow you to understand the demographics of those who "Like" your page by utilizing Facebook's platform.
Tip #4
Use Facebook's ad network. After you set up your Facebook page you should also consider running  paid traffic to it so that you can grow it. This will allow you to grow your page's community a lot faster. Look at Facebook as another list building tool that will allow you to communicate as much as you want with your customers and prospects currently for free. It should be perceived as an asset keeping in mind a bunch of "Likes" means nothing if it is not positively effecting your bottom line.  
Tip #5
Encourage your customers to "Like" your page. If you operate a physical location this can be easily done.  Considering that those who have already spent money with you at the very least trust you. It will be easier to convince them to join your page. You can also offer incentives for those who visit your location to join your page. For example a discount could be given on the spot for all those who like your page at the check out. Incentives could also be given for those who refer the most "likes"  in a day to your page. This can be done by running a contest among those who have already joined your community.
Tip #6
Use video. With popular sites like YouTube it is easy to get video online. By making a simple video discussing what you do and what you have to offer and then distributing to all the popular video sharing sites you could increase your reach significantly.  Think about it, most people would rather watch a video than read your sales message and you do not have to be "Spike Lee" in order to direct and produce your on video about your products and services. Included in your video message should be some helpful tips and information not just a blatant sales pitch.
Tip #7
SEO your blog. For clarity sake SEO is short for search engine optimization.  SEO is a process that is used to help websites rank higher in the organic search results.It is a process that if you get on the first page of the search results will allow you to get free traffic to your website or blog. While the word free is debatable you get my meaning.
This should be a big part of your internet marketing strategy. Whatever niche you are in do a little keyword research to find out what search strings people are using when looking for what you do. These words that you find should be included in your blogs on page optimization. To teach SEO here is beyond the scope of this article but if you need help contact us at:support@crackedatommarketing.com
All though SEO as an internet marketing tip is appearing here does not mean this is the order you should consider doing it. The keyword research actually needs to be done before you set up your blog (website), so that you know what words you are optimizing for. If not it can always be done later.
Tip #8
Run a PPC campaign. Paid traffic to me is the quickest way to generate business. If you have the budget for it you should immediately implement it into your internet marketing strategy. There are some pitfalls to watch out for, for example it is not a set it and forget it strategy, you have to monitor your campaigns to ensure your ad budget is not wasted.  Once you have an effective campaign on one channel you should then implement the same campaign across all PPC ad networks.
Tip #9
Get on twitter. You could leverage twitter as a tool to generate traffic to you blogs articles and posts. This is a good way for you to let people know when you have written a post. Developing a following on twitter will afford you the opportunity to send out quick nuggets of information that could generate interest in what you have to offer.
Tip #10
Syndicate your content. Once you have written an article or post on your blog you can distribute this information to other online channels. Article directories, forums, newsletters and so forth. Written words can also be transformed into audio as well as video so that it can be consumed on different channels.
Once you have written a great article consider converting it into a podcast, after that is done spend some time putting a video together. The content you have written could be placed on slides for a powerpoint  presentation and usig screen capture software turned into a video with your voice over the slides. This is an effective way of taking written content and turning it into audio or video strategies to increase traffic to your blog. This internet marketing strategy will help you to grow your presence on the web faster.
Bonus Tip
Press releases. If your business has news worthy information going on write a press release. This will give you more exposure, help to garner more traffic as well as third party validation. Remember if it was in the news it must be true. It also will help with tip #7 SEO by providing backlinks to your blog.
By applying these 10 internet marketing tips into your business you will see increased traffic and if your offer converts with that increased traffic you will also experience an increase in revenue. There you have it, internet marketing tips and strategies you can use to help grow your business.