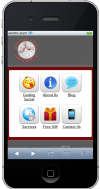 Mobile websites are becoming more and more visible daily. However there are a lot of business owners who have not yet come to realize the importance of having a mobile version of their website. The internet and now the mobile web changes so fast it is difficult to stay abreast of all the tools and resources your business needs online as well as off to remain competitive in the market place.
The statement "it does not matter if I have a mobile website" is as in accurate as 1 + 1 = 3.  If you are in disagreement with this statement by the time you finish reading this you should have a clear view of why it was made.
Reason # 1
A mobile website will enhance your brand and credibility among consumers. When consumers are surfing the internet from a mobile device usually they are looking for quick concise information. If your website fails to satisfy this need they will quickly dismiss it and move on to a competitor who can offer the media they require at the moment.
Reason # 2
First impressions are lasting ones. If a consumer has a poor experience on your website with their mobile device they will not return. In a Compuware survey users expected to have a seamless and efficient experience visiting your website from a mobile device. 71% of all surveyed expected the website to load on their phones as quickly or faster than on their home computer.  60% of mobile web browsers expected sites to load as fast as three second or less and 73% are only willing to wait 5 seconds or less. So if your website is not optimized mobile viewing you are loosing business.
Reason # 3
The use of the mobile web is expected to surpass the use of desktop internet surfing by 2015. Which means more people will be accessing the internet from a mobile phone than from their home computer.
Reason # 4
One half of all local searches are performed on a mobile device. If you are running a small local business you should be in front of them. 25% of all local searches are done by people looking for a local merchant. Consumers search online and buy offline. According to NDP Group 51% explicitly characterize their behaviour  as "Shop Online, Purchase Offline."
Reason # 5
Most desktop websites were not developed to be used on a mobile phone resulting in poor user experience and loss of business.
The next time you are out observe the people around you. What are they doing? They are on their mobile phones. In fact the three things that most people will not leave home without are there car keys, their wallet and you guessed it their mobile phone. There are 5 billion plus cell phone user vs. only 1.8 billion Internet users (almost 3x in market size.) Of these users, 51 Million use smart phones. There is a fundamental shift in how people are communicating. Text open up rates are 95%, 73% of new mobile phone buyers report that text messaging is the most important feature on their phone.
Engaging in mobile marketing and developing a mobile website for your business should be one of your primary goals for your business this year. If you are interested in learning more about how mobile solutions can help you grow your business contact us at: support@crackedatommarketing.com and will get you started on developing your mobile website.