---
---
If you are a small local business owner you have probably asked yourself the question do I need Facebook as a Social Media Marketing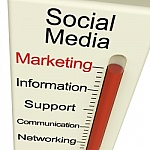 Strategy ? While there is not a short answer, one of the things to consider is if you do use Facebook who is going to manage it for you. After all if you are like most business owners you do not have time add something else to your to do list during your already busy day.
Social Media Manager's are an asset to have if you are really serious about adding Facebook as a way to communicate and market to your customers. Allowing them to run and maintain your social media profiles for your business can free up a lot of time that you probably could use doing something else.
If you do not decide to outsource your social media marketing the next thing you need to think about is are you really going to do it yourself on a consistent basis. Again to have a barren business page that does not have any "Likes" or post will be just another sign of something you started and did not finish witch can be very draining.
On the other hand if you know you are going make this a part of your daily routine then dive in, starting first with making a reasonable list of goals you hope to accomplish with Facebook marketing. Concerning if you should use Facebook at all  Katye Munger of Rutland Herald had this to say:
Facebook is the most used social media platform worldwide. It is therefore the best way to engage your customers. Facebook and other social media platforms have transformed the marketing world. Some businesses refer to social media as "consumer-generated marketing," or CGM. Social media is distinct from traditional media as it turns a traditional marketing message, where information is simply put forward through press releases and advertisements onto an one way track, and turns it into a two-way conversation, encouraging responses to those messages and ideas, as well as a medium to easily share your message or information. This conversation lets companies present themselves in a more humanistic light.

Having a page for your business on Facebook comes with very helpful tools that allow you to measure and adjust your performance on the site. Being able to see the demographics of your fans as well as how many people are viewing your posts can be incredibly useful information. Learning from this information and reacting to it appropriately is integral.

My big tip for using Facebook is to make sure that you do not overpost. Your posts should be thoughtful, engaging, encourage conversation, feedback, or sharing, and if it contains some form of media (a photo or video), it will most likely garner further attention. For more Facebook tips and best practices, visit the official Facebook page by typing "Facebook Page" in the search at the top of the screen on Facebook.

Original story here.
While every business is unique you may consider how you can distinguish your business brand from others by being creative in your use of Facebook. Creativity and being fun entertaining and informative will give you a better shot at success on Facebook as well as other social media marketing platforms.
You most remember why people are hanging out on Facebook in the first place. To see what their friends are doing and to share what they have been up too and have fun. By taking advantage of this fundamental reason people are their your efforts will be rewarded.
To answer the question more directly, I would say their really is no reason why a small business owner should not throw his or her hat into the social media marketing space. The cost to get started is not that expensive for the returns your business could see. If you are interested in learning more about social media marketing and Facebook read our article Social Media Marketing: How To Be Effective.