---
---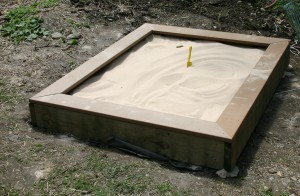 Trying to game the Google system is futile for SEO purposes its better to develop a more long term approach for successful SEO development. This is especially important if you are doing SEO for clients. Having your website placed in the Google sandbox is one thing but having a paid clients website being sand boxed is a whole different story.
According to the excerpt below  rehashed or spinned content is a sure way since the recent updates to get your website in trouble with Google and possibly sand boxed.
No More Reheated Content

The services most recently being targeted by the search engines specialized in re-spinning and submitting content through private blog networks. These services have been hit with a website de-indexing campaign that has rendered their future usefulness to clients negligible.

Search engines like Google are committed to detecting out duplicate and bogus content, and have now updated their algorithms to identify  recycled content and the websites that contain it will, and have, suffered as a result. With this somewhat shady method of link-building gone now, more than ever, the need for quality, unique content for your websites is vital.

Too many people over-think strategies for improved search engine visibility.  If you ensure that the content you add to your sites is original, well written and relevant, it will work for you. Focus on this simple concept, rather than trying to outsmart Google, and your website rankings will benefit, and let's face it, online businesses live or die by traffic volume, and having a good search engine ranking is key to getting the traffic you need.
The thing to consider most is to write for the people who may read your content and not for the search engines. In this way of considering how a person would feel reading your material you more than likely to write good sound original content that is useful. Knowing that backlinks drive SEO writing good content is also a surefire way to have others linking back to your website.
Material that is not able to be read and understood by real people is not a good long term strategy to use for SEO development. Using good sound strategy is a far better approach. In short by writing good articles and posts will give you a far better return than using practices that make people upset when they land on your  website.