---
---
In order to remain competitive in today's market small businesses must utilize technology and the latest in marketing strategy. Staying on top of all that you can do to get more business can be a headache. While some things are just fads and will not bring a serious ROI one things for sure mobile phones are here to stay.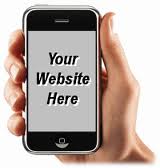 Small businesses have to offer a mobile website—it's no longer just a customer expectation, but it drives revenue as well. According to Nielsen, businesses experience an online traffic increase of 13 percent after rolling out a mobile site. But while some SMBs have introduced mobile-specific sites, they remain relatively few and far between, due in large part to cost: A custom-built site can cost hundreds, even thousands.

Read Article In Its Entirety Here.
In the new age of tablets and smartphones  it would be a wise investment. Considering 40% of people who visit a non-mobile optimized site on their smartphones are likely to go to a competitor's site instead. It is no longer a choice but a necessity. To learn more about why your business needs a mobile website read this article.