---
---
The fastest and most effective way to communicate with consumers on their mobile phone is via SMS Marketing  or Text Message Marketing as it is commonly referred to. SMS stands for short message service and it is the most widely used data application in the world, with over 2.4 billion users or 74% of all mobile subscribers.
If you are a local business owner considering using mobile marketing as a strategy the use of text messages would be ideal for generating fast responses to new services or products. Being very careful not to annoy your list of mobile subscribers by including great discount offers and not messaging them every second of everyday. An article on Bike Biz by Jonathon Harker stated that:
According to the Mobile Marketing Association, over 95 per cent of text messages delivered are read, the vast majority within five minutes. For emails a 25 per cent open rate is considered high.

Text Marketer estimates that only 30 per cent of businesses in the UK use SMS as a means to get in touch with their customers (or potential customers). So why aren't we all inundated with vast quantities of SMS like we are with email? The difference is that business SMS messages have to be paid for.

Another benefit of SMS marketing is that it works across all platforms and all makes and models of mobile phones.

Studies from mobile analyst Portio Research have revealed that in the US, Asia and Europe SMS usage is growing, despite increased competition from Facebook, BlackBerry Messenger, Twitter and other messaging services.

Read original story here.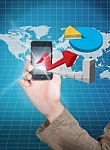 Having a 95% read rate is reason enough to use sms marketing as  a strategy for your company. However if you do not currently have a list of mobile subscribers to market too, that is your first step. This data give us an idea of how a well thought out sms marketing campaign can be very effective.
Building a sms marketing subscriber list should be met with excitement and enthusiasm as it can be a very lucrative asset. In the building phase you have to offer potential subscribers something worth giving you their mobile phone number.
Some opt-in examples could be text discount to 555444 to receive 20% off your purchase today. A discount offer works really well in this way. Also you could run a voting campaign where people could vote by texting in your keyword you are only limited by your imagination.